SEAGATE 500GB BarraCuda 5400 RPM 128MB Cache SATA 6.0GB/s 2.5" Laptop Internal Hard Drive ST500LM030
Rs. 3,979.00

Rs. 3,979.00
---
---
The thinnest and highest-capacity 2.5-inch hard drive available

Choose 7mm-500GB, 1TB and 2TB capacity options-for easy-to-upgrade laptop/mobile storage

Highest-capacity 2.5-inch drives on the market for DIY external box setup for upgraders

SATA 6Gb/s interface optimizes burst performance

Multi-Tier Caching Technology delivers snappy performance
Versatile and dependable, Seagate BarraCuda 2.5-inch drives are the latest generation of a super-reliable product family spanning 20 years. Count on BarraCuda drives for all your PC needs-working, playing, and storing your movies and music. Lower power consumption
BarraCuda
The thinnest and highest-capacity 2.5-inch hard drive available
Choose 7mm—500GB, 1TB and 2TB capacity options—for easy-to-upgrade laptop/mobile storage
With 3TB to 5TB capacity options, the 15mm BarraCuda 2.5-inch hard drive allows you to easily store most of your games, music, movies and more
Highest-capacity 2.5-inch drives on the market for DIY external box setup for upgraders
SATA 6Gb/s interface optimizes burst performance
Multi-Tier Caching Technology delivers snappy performance
Lower power consumption
Product Description:
Versatile and dependable, Seagate BarraCuda 2.5-inch drives are the latest generation of a super-reliable product family spanning 20 years. Count on BarraCuda drives for all your PC needs—working, playing, and storing your movies and music.
Keywords: External hard drive, all-in-one desktop drive, ultra-slim desktop drive, personal harddrive, business harddrive, 500GB, 1TB, 2B 3TB, 4TB, 5TB dependable, reliable, laptop, mobile pc, laptop pc
BarraCuda
Amazing Versatility. Unmatched Dependability.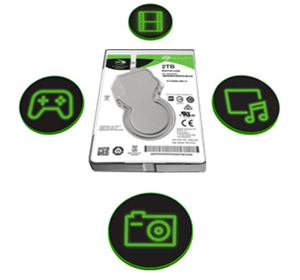 Versatility at the Ready
Versatile and dependable, Seagate's fierce BarraCuda drives are inspired by the past and ready for the future. BarraCuda 2.5-inch drives, in 7mm and 15mm z-heights, are a cost-effective way to handle all your PC needs.
Best-Fit Applications
Laptop and mobile storage
External storage systems
All-in-one-PCs
Ultra-slim desktop PCs
---
Multi-Tier Caching Technology
All hard drives in the BarraCuda family come equipped with Multi-Tier Caching Technology (MTC). MTC takes your PC to new performance levels. By applying intelligent layers of NAND Flash, DRAM and media cache technologies, BarraCuda delivers improved read and write performance by optimizing data flow, allowing you to load apps and files faster than ever before.
---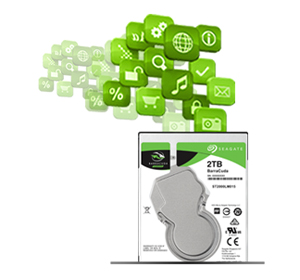 Major Capacity
Store it all. With capacities up to 5TB, BarraCuda leads the market with the widest range of storage options available. With a 2.5-inch form factor, users can upgrade their laptop, mobile, external storage, or all-in-one PC systems with ease.
Learn more about the
Seagate ST500LM030
---
We Also Recommend
---